Deel deze pagina
Hidden Pages (2017)

a documentary film by
Sabrina Varani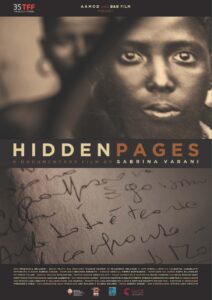 The evening will be moderated by dr. Maria Bonaria Urban.
This live event follows up on the KNIR Research Dialogue (KRD) of dr. Valeria Deplano on
Italian colonialism and the building of national belonging from XIX Century to the Republic taking place earlier that same day.
For more information and on how to register for the KRD go here.
Please note that the film will only be shown for those who attend this event live at KNIR, not in streaming.
SYNOPSIS
Francesca Melandri is an internationally renowned Italian writer who is working on her new novel. Its topic is the relationship between Italy's colonial past and today's mass migrations. She researches Italian and Ethiopian archives and interviews witnesses, all the while dealing with the collective denial and glossing-over surrounding fascist's memories in Italy. As she does so, she discovers that her own father had a very different story, and much more surprising, than the one which has always been told in her family. The film accompanies the writer on her long journey of research, where she meets with key witnesses in Italy and Ethiopia. We are with her when she talks to witnesses and scholars, gleaning precise historical details that will give creative force to the pages of her book. We are at her side when she scales a cliff in Ethiopia in search of the cave where hundreds of civilians were exterminated by the Italian occupants with poison gas. We glimpse inside of her notebooks, at the quick notes she jots down during these conversations, jottings that will evolve into the characters of her book. Extracts from the novel provide thematic and poetic links across the scenes. An original use of archive material creates a strong link between a denied past and today's resurgence, not just in Italy but in the whole West, of racial intolerance. Also, between a writer's research, both biographical and historical, and its complex, surprising, final rendition of the human experience into something which we call literature.
Sabrina Varani, director of photography and documentary filmmaker, worked on fiction films in Italy and France from 1984 to 2000. She has spent the last 15 years working mainly on documentaries, collaborating as director of photography with top Italian documentary film-makers like Agostino Ferrente, Costanza Quatriglio, Roland Sejko. At the same time she works on her own documentary projects, mainly on social and gender issues. Among her directorial works, "Riding for Jesus" has been selected for numerous Italian and foreign film festivals and broadcasted in Belgium and France. It was a winner at the 2012 Detour Film Festival and one of the finalists in the 2012 Doc/it Professional Award for Italian documentaries. Her documentary "Hidden pages" has been selected in Tourin International Film Festival, it was one of the two Italian documentaries chosen in the selection of "Il mese del documentario" in Italy, and was broadcasted on national RAI 3 in DOC3 slot in 2018.
Francesca Melandri (Rome, 1964) has worked as a screenwriter for many years, before debuting with her first novel Eva dorme (Mondadori) in 2010. In 2012, her Più alto del mare (Rizzoli) was shortlisted for Premio Campiello and won Premio Rapallo Carige. Her novels have been translated into English, French, German, Dutch, Russian, Greek and Croatian.
Sangue giusto (Right Blood) is a great epic novel that goes through the contradictions of the nineteenth century, up to now: the investigations of a daughter on her father's past bring us before our Western identity and our relationship between colonial past and mass migrations' present.
Spiegel bestseller for more than 10 weeks and "Most important book of the season". It was hailed "International novel of the year" by German magazine Der Spiegel. Awarded the Lieblingsbuch der Unabhängigen in Germany.